Watch a few scenes from the 2023 event:
A few photos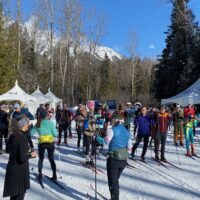 Looking for a challenge? This is the one, a long one but very casual – unless you don't want it to be casual, and then feel free to ski like mad! Excellent prizes, ride(s) on the Deer chair, a lot of yummy food and drinks. Prizes will be awarded for best Viking costume and then as door prizes!
When: Sunday morning March 26, 2023
Participants meet at 10:15 am
Flying Vikings start at 10:30 am
Mini-Vikings start at 11:00 am
Where: at the Elk Valley Nordic Centre located next to the Mt Fernie Provincial Park
You have the option to do either the full 50 km yourself (2 loops to the ski hill trails and back) or you can choose to do a single loop of 25 km. Three age categories to choose from: Adult Open, U17 and L56 (or age 56 and up). You can classic or skate ski as you wish … let's go for No Rules!
Mini-Viking Challenge: New this year are categories with 3 shorter distances for our Mini-Vikings. Choose 1.3 km to Teck bridge, 3.4 km to top of Runt/Grunt or 7.5 km around Galloway Loop, and back to hut. Optional costumes are highly recommended here too!
Fee: $25 for 25 km & 50 km – lift ticket included
$15 for Mini-Viking distances – no lift ticket required – includes optional guardian
2023 Fernie Flying Viking Challenge Results
The results can be found at https://www.webscorer.com/race?raceid=309685 or click the button below:
The results of our previous 2020 Fernie Flying Viking Challenge are found here:
Route and course profile
** NEW ** A more detailed course map may be found on this page
Previous Events