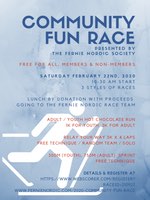 The Fernie Nordic Society is holding its 8th Annual Community Fun Race day on Saturday, February 22. All skiers are invited to participate, club members and non-members alike. The overall theme will be FUN and CHEERS for all.
There will be hot food available by donation – bring a bowl and a mug to help us go green(er).
The event will consist of three types of competitions:
Hot Chocolate Run – Adult-Child duo Course length: 1 km for child and 3 km for adult PLANNED START at 10:45
Relay races (random draw) or Solo race Course length: 3 km for each leg – total 12 km PLANNED START at 11:45
Sprint races Course length: 300 m (kids) or 750 m (adults) to be repeated a few times PLANNED START at 12:45
WHEN – Saturday, February 22 from 10:30 am Please arrive by 10:00 to prepare for event
WHERE – Elk Valley Nordic Centre located 4 km SW from Fernie along highway 3. See map here.
AGE REQUIREMENT: None – all ages are welcome
Entry Fee: $0.00 or totally FREE for all participants
REGISTRATION – Online at Webscorer.com HERE or on the morning of event. One may participate in more than one event. Registration will be open until event start time.
PARKING Please use the lower parking lot. Parking is also available along the park road on the side of the entrance gate without blocking the gate. See our parking map.
COURSE MAP is available HERE