Group Programs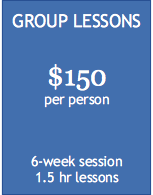 To register for group lessons
please contact Amy




Intro to Classic – Tuesdays January 7 – Feb 11, 2020 10am – 11:30am
Cost: $150 for this 6 week program
New to cross country skiing? Gradually build competence on your skis and in your technique in a fun and supportive atmosphere. Learn the basics of moving on the flat and gain confidence on downhills! This group lesson runs for 6 weeks at the Elk Valley Nordic Centre trails.
Classic/Skate Mix – Wednesdays January 8 – Feb 12, 2020 10am – 11:30am
Cost: $150 for this 6 week program
Back by popular demand! In our 6-week classic/skate program we will cover classic technique for 3 lessons and skate technique for 3. Focusing on proper technique and efficiency, this 6-week group lesson is for varied abilities. Classic and skate equipment is required.
Intro to Skate Skiing – Thursday January 9 – Feb 13, 2020 10am – 11:30am
Cost: $150 for this 6 week program
Curious about skate skiing and want to give it a try? Learn the proper technique and avoid developing bad habits with this 6-week progressive group lesson. We will learn the basics of skate skiing and the different types of techniques, working up to how to approach hills and successfully climb them.
Private, Semi-Private Classic / Skate Lessons
Private, semi private and group lessons are also available on request. If you have a specific technique you'd like to work on, need fine tuning in a certain aspect of your skiing, and/or prefer to have the one-to-one approach, we have varied availability throughout the week to help you reach your goals. Please email Amy and Tarah to request a lesson and they will try to fit your schedule.
Pricing for the lessons is as follows:
Lesson Preparation/Information
If you are not a member of the Fernie Nordic Society, please make sure you pay for your day pass before the start of your lesson. You can get a $10 pass from a kiosk or online HERE.
Please arrive at the Nordic Centre 10-15 minutes prior to the start time of your lesson so you are ready to go when your lesson begins.
Be ready with equipment rented (if necessary) and waxed. Please contact your instructor for suggestions on where to rent equipment.
Be prepared for the weather (it can change quickly in Fernie). Dress in layers that don't inhibit movement. Materials should be insulating and breathable. Have extras (sunglasses, mitts/gloves, toque, wind/water resistant layer, etc) in a bag just in case.
We try to go forward with lessons regardless of the weather, but for your safety and the safety of our instructors we will not teach lessons if the temperature is below -20ºC. Your instructor will contact you to postpone/cancel your lesson. We will do our best to accommodate your schedule for a make-up lesson.
How to register and pay
Please contact the appropriate coach according to the type of lesson you are requesting. Once your lesson has been confirmed, you will be requested to pay via e-transfer to info@fernienordic.com (secret word NORDIC).
Please ensure you have a day pass or membership (see above for more information)
The Instructors
Please note that Tarah has limited availability for private and small group lessons.
Both Amy and Tarah are NCCP licensed coaches with over 30 years of experience in Nordic skiing. Their backgrounds consist of instructing, recreational and competitive skiing. Whether your goal is to have an enjoyable winter activity to get you out of the house, keep in shape for your summer sports, or compete at the various races in our area, they can help get you there.
Any questions? Get in touch with Amy
Send your payment
You can do an online payment for the lessons. A first option is an etransfer to info@fernienordic.com Another option is to use the button below to use a credit card: