In the mean time, what about some pre-ski physical training to get you ready for the trails as soon as the snow flies?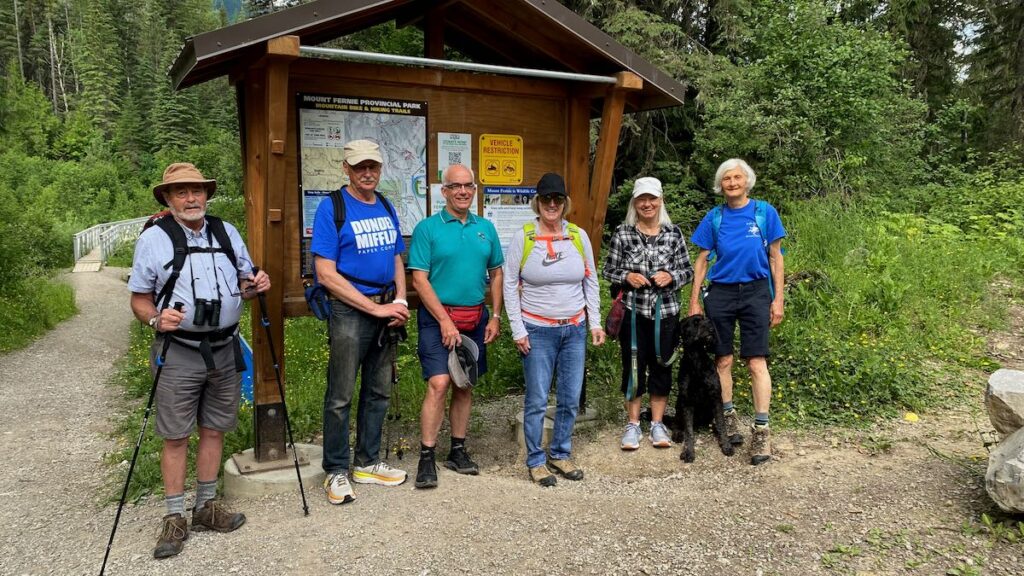 Visit our photo pages HERE
We are curreently looking for a volunteer to lead this group for the 2023-2024 season. If you are interested to join our group, please contact us today! Make sure you also subscribe to our email list.
Primary focus
The main goal of the 50+ Training Group is to stay active and provide skills to increase skiing efficiency in a social group setting. The training program encourages group participation to help motivate people through a social and friendly setting. We also encourage the members to enter some fun races in the Kootenays as a way to motivate your training participation. While it is encouraged, it is not mandatory to attend any races.
Past Hikes done during the summer of 2022
May 18: Fernie Main Loop Old Stumpy, following around to ax tracks to go past golf course, then towards Canadian Tire. I then cut across through high school and back to Aquatic Centre. There was a downpour so this hike was cancelled.
May 25: Coal Discovery Trail (Road) Heritage Trail from The Barn that then becomes Coal Discovery Trail. Walked to the Rifle range which took almost two hours. Returned along Coal Creek road.
May 27: Fairy Creek Falls (It rained so it was postponed to the next week.)
June 1: Fairy Creek Falls
June 10: Montane
June 15 & 17: Nothing planned due to rain
June 22: Let's meet at the Cemetery Trailhead at 2 o'clock. There are lots of options.
June 24: Let's head to Parking Lot 4 at the ski hill for 2 0'clock and check out the Nordic Trails; Silk, Manchuria and or Scandia.
July 6: We'll meet at the Provincial Parking Lot at 2:00 and hike Gorby.
July 8: We can meet at Island Lake Lodge Lower Parking Lot and walk along the Rail Trail. This is a one way, returning along the same trail. If some wish to include Old Growth Trail you'll need to add a few more hours due to the limited Lodge Road access and parking.
July 13: Last week just as we arrived at the Gorby Trailhead, the rain and thunder also arrived. None of us was too keen on walking in the rain so we'll give Gorby hike another try this week.
July 20: Lazy Lizard Trail We'll begin at the Lower Island Lake Parking lot at 10:30.
July 27: This week's plan is to meet at the parking for Lizard Creek Bridge at 10:30. We'll do some of Gorby then turn off onto Old Goat which takes us to Happy Gilmar. We'll follow Happy Gilmar to Sherwoody.
Aug 3: Hiking to the mid-way point (or any other point you choose) on Mt. Fernie should keep us in the shade. Let's meet at the end of Canyon Trail at 10:30
Any questions? Get in touch with a volunteer.