In the mean time, what about some pre-ski physical training to get you ready for the trails as soon as the snow flies?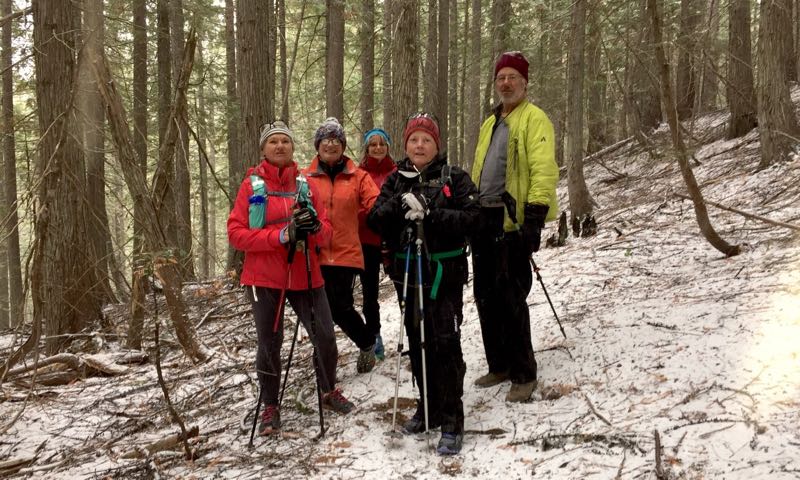 Visit our photo page HERE
This program was cancelled during the COVID-19 pandemic. Watch for updates for the 2021-2022 season. Or better yet, make sure you subscribe to our email list.
WINTER 2019 – 2020 UPDATE – Physical Training Program for Adults aged 50+
The 2018 – 2019 nordic season was an exciting one for the Fernie Nordic Society as it was the first season offering the 50+ Training Group.
Primary focus
The main goal of the 50+ Training Group is to stay active and provide skills to increase skiing efficiency in a social group setting. The training program encourages group participation to help motivate people through a social and friendly setting. We also encourage the members to enter some fun races in the Kootenays as a way to motivate your training participation. While it is encouraged, it is not mandatory to attend any races. This program is supervised by coach Jeff Williams.
Training Program
Each member of the 50+ Training Group will be given access to a Training Peaks account. This cost is included in your 50+ Training Group registration fees. Training Peaks is used to communicate the training program to each member and also a way for members to track their training and fitness. For more info on Training Peaks visit www.trainingpeaks.com
The training program will begin December 2nd 2019 and go to the end of March 2020.
There will be a minimum of 6 on snow sessions with Coach Jeff on Fridays.
Tentative schedule for on snow sessions are:
Friday December 20
Friday January 17
Friday January 31
Friday February 14
Friday February 28
Friday March 13
On snow sessions will begin at 10 am and go until 12 noon with 1 hour of classic skiing and 1 hour of skate skiing.
Also one hour drop in lessons will be provided by Instructor Tarah on the opposite Fridays for $15 for people signed up for the 50+ Training Group.
Note that the drop in lessons are open to other 50+ Nordic Society members who are not signed up for the 50+ Training Group at a cost of $25 per drop in session. Schedule will be sent out prior to sessions.
We will be planning a number of social events throughout the winter such as a wax clinic and social and a ski into the Boivin Huts in Elkford
Program cost
$150 for new paricipants
– no prior summer/fall session (only $37/month)
$100 for those who were registered in the summer/fall session
Contact Micheline at through this website if you would like to join this program.
Send an e-transfer to info@fernienordic.com for the December to March session.
Any questions? Get in touch with a volunteer.