This page shows the info and results about the 2023 event. The next event
will be on February 24, 2024 on the trails of the Fernie Golf Course.
This page will be updated as soon as the events of the 2023-2024 season are confirmed.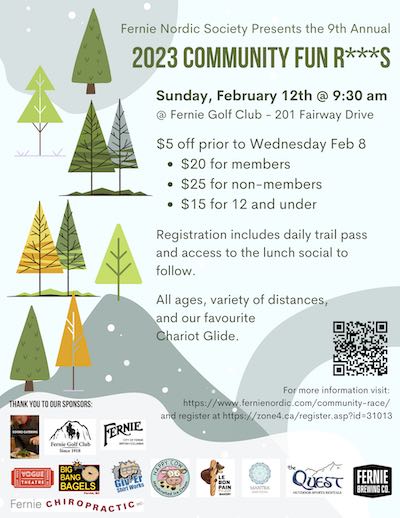 Come to ski, come to race, or come to cheer! Compete against your friends and enjoy the great trails. This is an annual community event that is really a fun race open to everyone. Participation is open to all skiers, club members or non-members alike, all ages and abilities.
As in previous years, there are several popular categories to choose from, short ones for the young skiers and longer distances for the older kids and adults and even a 'team' category with an adult pulling a chariot with a passenger. The keyword here is FUN, so wear a funny hat or costume if you dare!
The event in 2023 will be held at the Fernie Golf Course. No trail pass required when you enter one of these events. Our goal to make it a fun event for young skiers as well as older ones. Thank you to all volunteers organizing this event.
2023 COMMUNITY FUN RACES!
LOCATION Fernie Golf Club, 201 Fairway Drive
DATE/TIME Sunday, February 12th with a 9:30 am start for bib pickup
Participants will compete within their chosen categories and be rewarded after with a hot chili lunch in the clubhouse. I hear there may be prizes on the line?! Registration/bib pick-up and warm-up will start at 9:30 a.m. and the races will beging promptly at 10:40 a.m., following a quick racer meeting. Cost of registration includes daily trail pass and access to the lunch social to follow.
Results
Details of the times for each participant are shown on the www.webscorer.com website. Click on the following icons to access each page.
Categories and distances
Bunnyrabbits – 200 m – (up to 6 years old)
Jackrabbit – 800 m – (up to 8 years old)
Track Attack Classic (up to 12) – 1.5 km
Track Attack Skate (up to 12) – 1.5 km
The Challenger Skate (all ages) – 8 km (3 laps)
The Challenger Classic (all ages) – 8 km (3 laps)
The Chariot Glide (age 12 and up) – 2.7 km
Relay Skate (age 6 and up) – 2 x 2.7 km (1 lap each)
Relay Classic (age 6 and up) – 2 x 2.7 km (1 lap each)
Gentle notes!
Relay races have 2 participants drawn at random … for more fun!
Others are mass starts
All for fun
Costumes encouraged!
Don't have nordic skis? Call The Quest at (250) 423-9252 or Gear Hub at (250) 423-5555 for rentals. Locations may be found HERE
Drop your skis for a Pre-race Glide Waxing $15 – from 9:00 to 9:30 am
Lunch for spectators/parents may be purchased at time of registration
If you'd like to help with this event, please visit our SignUpGenius page to choose an easy task
Thank you to our hosts and sponsors!
Fernie Golf Club, Cooks Catering S & P, Happy Cow Fernie, Fernie Chiropractic Inc,
Mantra Spirit Studio Fernie, Le Bon Pain Fernie, The Quest Fall Line Snow Sports,
Fernie Brewing Co., The Vogue Theater, Giv'er Shirt Works, Big Bang Bagels, City of Fernie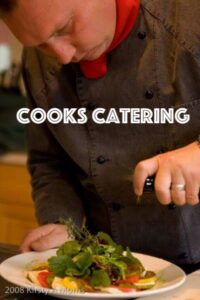 Previous Events