Hello Skill Development Program families!
Sorry for the long email, please bear with me!!
On Saturday February 22nd, we are holding the 8th Annual Community Fun Race. This is a purely fun event meant to bring the entire community together. This event is free for members or non-members and no day pass is required.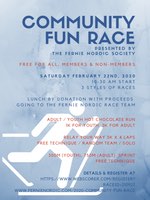 The first event is the Hot Chocolate Run. It will start at 10:45 and takes the place of SDP lessons. A team made of an adult and child will ski from the hut to the intersection of the Jackrabbit loop and the Cedar loop exit (open area). There will be volunteers with a propane fire pit and hot chocolate for the kids. While the kids stay at the firepit, the adult will ski the Lizard Lookout and Cedar loops (approx. 2km), then return to the firepit, pick up their child, and head back to the hut. There will be small prizes for everyone, but the event isn't timed and is meant to be entirely fun. Please arrive prior to 10:30 just like a normal lesson day – a little earlier would be better if possible!.
It would be wonderful if all SDP kids are able to partner with an adult, but we understand that not all kids have an adult in their life who is able to ski with them. If this is the case, we will partner your child with a coach or a race team member. We may have more than one child with an adult.
After the Hot Chocolate Run, there will be a Relay race followed by a Sprint race. We'd love to see lots of families participating or cheering! Please see more details on our website.
If you would like to participate in all the race events but aren't sure what to do with the kids while you participate, please contact me. We'd like to offer watch over a group of kids so that everyone gets a chance to take part.
How to take part?
Please use the webscorer sign up at https://www.webscorer.com/register?raceid=210927 to add your child to the event and let us know if there is an adult to attend with them. Please enter "partner needed" if a coach or race team member will be paired. We will have a special area to meet, and all partnered kids will get a bib per usual lessons.
There will be hot food available by donation. Please bring a bowl and spoon if you would like to participate! All proceeds will go to the race team.
Finally, pass this along to anyone you know. The more the merrier!! Also, if you would like to volunteer in some way, we could always use help corralling the racers!
Cheers,

Sam

Email: fernienordicmemberships@gmail.com