The members of race team will be waxing skis on November 10 & 11 at the Elk Valley Nordic Centre as a fundraiser. A little TLC will get your skis ready for the start of the season.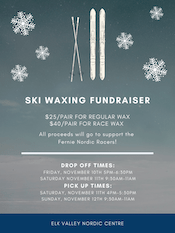 Drop your skis off for a fresh coat of wax – only $25 regular or $40 for race wax – and they will feel great!
Drop offs:
Friday, November 10th 5:00 – 6:30pm
Saturday, November 11th 9:30 – 11:00am
Pick ups:
Saturday, November 11th 4:00 – 5:30pm
Sunday, November 12th 9:30 – 11:00am
This is a great fundraiser for the Fernie Nordic Racers!