Over forty people came out in the sunshine for the Fernie Nordic Society Annual General Meeting on Sunday July 25th at 4 pm. It was a pleasure to be able to meet face to face once again after a year or more of meetings "by zoom". Many thanks to all who attended. The minutes for the AGM and the Election of Officers are posted on the Fernie Nordic Society website.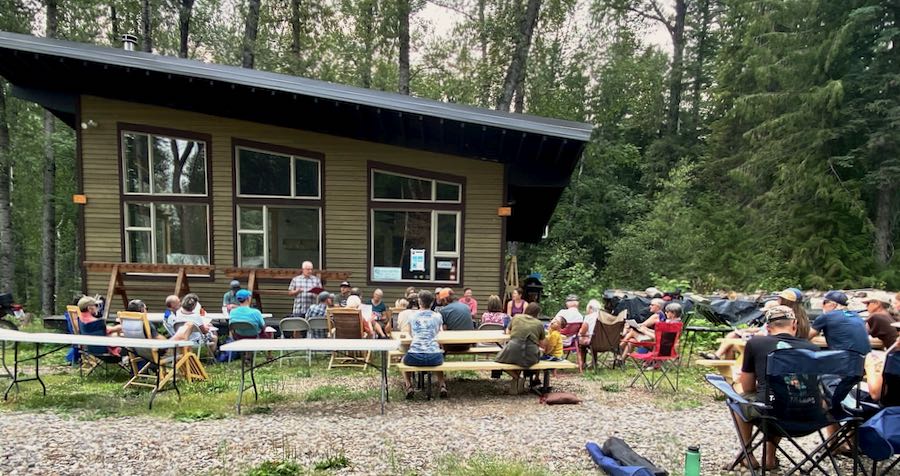 Highlights of the meeting included:
the Directors' Reports from "a season unlike any other" as we navigated our way through COVID policies and protocols lead by Jenn Heath.
our trails are our biggest asset and grooming them is our biggest challenge. Our contract groomer Mark and our team of volunteers led by Rick logged close to 600 hours of work to keep the trails in the best shape possible. We plan to increase the contract grooming for the 2021-2022 season to 6 – 8am, 7 days a week.
our membership doubled from the previous season to approximately 1600. Successful grant applications this season added approximately $44,000 in grant monies to our budget.
our toughest decision this winter was to cancel the SDP program. However, our kid sized gear was made available for rent to about 85 takers. We had a race program this year but no races to go to. Coach Jeff and the volunteer coaches focused on training, virtual races and time trials.
adult lessons were run by Tarah in smaller groups. With Tarah's help we are hoping to grow and expand this program in the upcoming season.
There is an opportunity to join the Board this year as the Director of Programming. Please contact Megan at info@fernienordic.com if you are interested in this position or would like more information. The board is transitioning to a strategic level with support from committees. We will be looking for volunteers for the grooming and race team committees.
Thank you once again to everyone who attended the AGM. We encourage you all buy your passes early for the next season. Follow the website at www.fernienordic.com for up-to-date information.
Happy trails
Report by Jane Stevens