The Fernie Nordic Racers participated in the Teck Regional Fall Dryland Camp in Kimberley from Friday September 30th to Sunday October 2nd. We had some beautiful weather all weekend and we all had lots of fun.
The camp started at 9 am on Friday morning. The older athletes started with some team bonding activities while the younger ones were doing a core workout and then they switched. Later the older athletes did some ski striding up to the top of the ski hill by the cat track and came down by the ski runs. It was fun. During this time, the younger athletes conquered Mountain Hill Climb. Then everyone had lunch and some rest time.
After lunch, the older athletes did classic roller skiing in little groups to work on their technique and skills, while the younger group had an introduction to skate roller skiing and played some fun games. Later in the afternoon, the older and younger athletes played Ultimate Frisbee in separate groups. Then there was a dinner at the Nordic Center for everyone.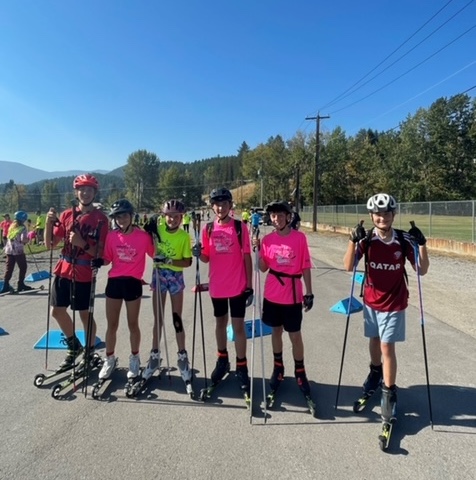 On Saturday morning, the older athletes met up at the start of the Rails-to-Trails in Kimberley and did a 30 minutes warm up before heading to the start line of their time trial. They did a 3.8 km uphill skate time trial starting in town and going all the way up to the Nordic Center. Everyone did very well. After the time trial, the older athletes did an obstacle course on roller skis. The younger athletes split in two groups, one group did some team building activities while the other group did balance drills on roller skis and games, then all switched. After that, everyone had a well-deserved lunch and rest.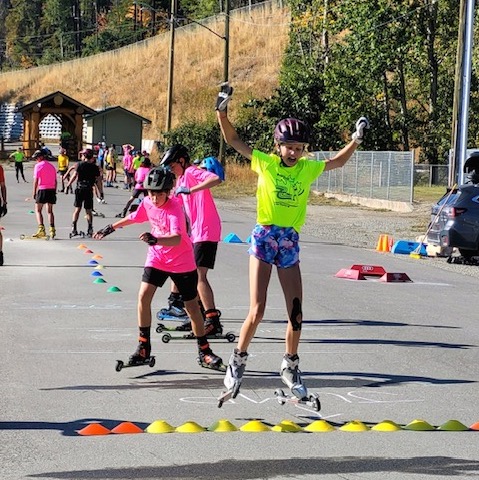 In the afternoon, the older athletes did a challenging workout with Shenoa Runge while the younger ones did an orienteering activity. Then the groups switched. The older group had a different orienteering course, and the younger athletes did their workout. All this took place at the Kimberley Nordic Center. The orienteering was organised by the Kootenay Orienteering Club. Later all athletes had dinner at Kimberley Nordic Center.
On Sunday, the older athletes met at the Rails-to-Trails at 9 am to go for a long roller ski. The Fernie athletes skied about 40 km in 3 hours. The younger athletes had a choice between a trail run at the Nordic Center or a bike ride. After the morning activities the camp was over, and it was time to go back to Fernie.
In conclusion, we thank all the volunteers, coaches, and parents for all their help and for making this event possible. It was a great opportunity for the athletes to improve and get stronger. Everyone had a lot of fun and is excited for next year!
Article by Louison Dubief and Aurélie Smithson
Other pages you may be interested in: