Interview with Head Coach John Shaw
It's a classic Fernie fall day and I am sitting at one of the picnic tables in front of the Nordic hut enjoying the view, the changing colours, and crisp air. This mid-day break from zoom calls is welcome as I wave to Johnny Shaw, who is hauling wood in preparation for winter bon-fires. The Fernie Nordic Society's Race Team Head Coach has agreed to join me for a chat about how he and his family came to be among the founding members of the Society. As a newbie to both the Nordic sport and Fernie Club, there is no better way to immerse myself in both than a chat with Johnny.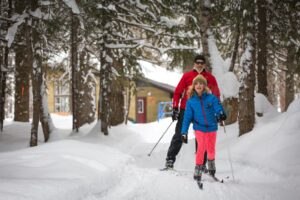 Johnny never left Fernie after arriving for a one season visit in 1996. He came to learn to snowboard and quickly settled into seasonal residency with the purchase of a house. Sound familiar? Snowboarding morphed into telemark skiing and then alpine. He loved it, but when he and Virginia (a Doctor in Fernie's healthcare community) welcomed baby Wes. Fatherhood required a pivot to accommodate paternity leave and napping schedules. A pair of classic fish scale skis and a Nordic chariot allowed for a daily rhythm of afternoon glides around the Nordic track near the Aquatic Centre (now the home of Fernie's infamous jump park) and the Island Lake Lodge road. An interest initially piqued during a university cross country ski course while pursuing his Kinesiology degree at Lakehead University crystalized into a new found passion as Johnny realized the physical benefits of the sport. The fun of alpine skiing had some physical consequences that Johnny now saw healing as he benefited from the all body work out of Nordic skiing. "Why do Nordic Skiers chew gum" he asked me? So that they are using every single muscle while skiing! And for many, that can mean fitness with the curative effect of a balanced workout. Johnny was hooked! He could see now why Virginia had settled into the sport at McGill, while pursuing her PhD – one hour on skis had huge physical benefit and was easily accessible almost anywhere. In a mountain town, on a university campus or in the middle of the city.
As Johnny continued to look for family time with baby Marley and 3 year old Wes, and with a nudge to coach from Clark Weber, his role in the Jackrabbit program was born. Johnny & Virginia continued to love the Nordic family scene, and though they pulled back a bit from lessons until the kids were 5 or 6, they remained active and committed to getting outdoors together during Fernie's long winters. The kids were generally keen to head to lessons, and Mom and Dad got fresh air and fitness.
Fast forward to today and a 15 year old Wes and 14 year old Marley are active in the race program and Dad is Head Coach. Mom enjoys balancing a busy career with her favorite winter sport and loves being a member of the support and cheering squad (and avid masters racer). I asked Johnny how Nordic skiing still works for them despite different goals, life stages and interest for a family of four.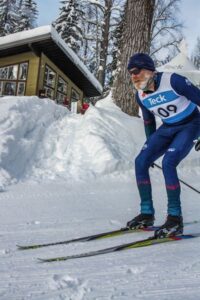 Here is what I intuitively knew, but Johnny confirmed: Skiing with the Fernie Nordic club is accessible and flexible. You want to improve your skills – great? You want to compete – yep – let's do it! You want a community for lifelong fitness and friendships – this is your place. You create your track and that is why it works. Each child and club member gets to personalize their goal.
Oh – and there are some benefits to being a smaller club – all ages in the race programs train together. This develops coaching and mentorship skills for the older kids and is inspiration for the younger ones. It also works across a variety of ages and skill levels because Johnny encourages them to compete against themselves and not each other. Words to live by!
Accessible, confidence building, fitness supporting and family fun – thanks for the inspiration Robinson-Shaw family. We're in!
Article by Melanie Jeannotte
Other pages you may be interested in: