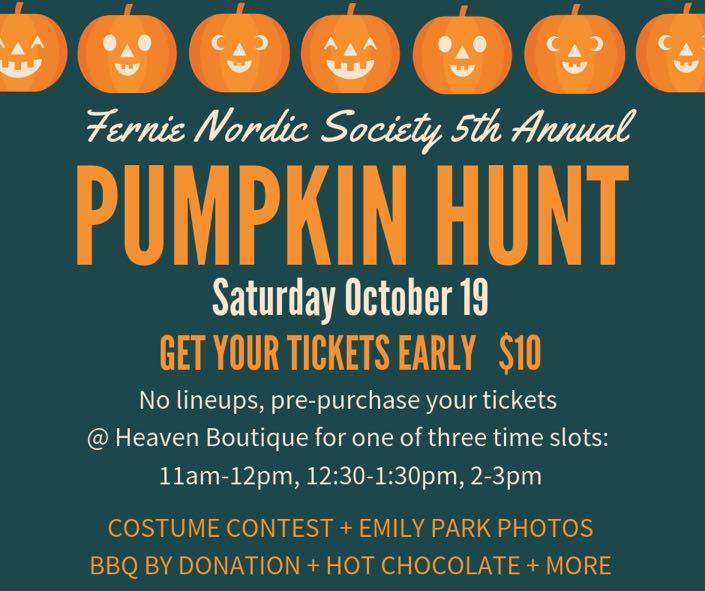 UPDATE: Great fall weather on a cool Saturday morning. Plenty of mud also! Many families came to enjoy the wooded surroundings of the Nordic Centre while the young ones looked for pumpkins. About 500 hot dogs were served!

Join the Fernie Nordic Society for Fernie's 5th Great Pumpkin Hunt, our annual autumn fundraiser event! Children 9 years and under (you don't need to be a Fernie Nordic Member) are invited to scour the forests surrounding the Warming Hut at the Elk Valley Nordic Centre for their own pumpkin. When the search is finished, each pumpkin hunter can enjoy hot chocolate and roasted marshmallows by the bonfires. It promises to be a great morning of autumn fun!
New this year: Tickets to the event will be sold ahead of time. Come by Heaven Boutique on 2nd Avenue in Fernie to get tickets for your prefered time slot. For more details, check our Facebook page.
This is an outdoor event, so please dress your children appropriately and bring camping chairs or blankets if desired. We're tough Fernie folks so a little rain (or snow!) won't deter us – but if the weather turns really gnarly, we may postpone it – check our Facebook page the day of for an update.
In the past many families chose to bring wienies to roast on the bonfires and enjoyed a walk on the trails around the Warming Hut after the Hunt. Please plan to do this again!
The Fernie Nordic Society thanks Our Sponsors for supporting this great annual event!
Our 5th Annual Great Pumpkin Hunt is planned for Saturday October 19, 2019 starting at 11:00 am at the Elk Valley Nordic Centre near the Mt. Fernie Provincial Park. The event should end by 3:00 pm.
Other pages you may be interested in: