Our 9th Annual Community Fun Races had 60 participants in the event on Sunday morning February 12 at the Fernie Golf Course. Good weather and great ski conditions added to its success. The ages of the skiers ranged from 4 year old in the Bunnyrabbits wave to 78 in the adult category. Many skied in costume. What a sight! The young skiers rushed on either a 200 or 800 metres course. Teen and adult skiers were on a 1.5 km or 8 km course. Two chariots with their young passengers made the 2.7 km loop.
Exciting relay relay races were also part of the event. A classic skier and a skate skier of various ages were paired at random for two 2.7 km laps. This made for a very fun event for the loudly cheering crowd watching.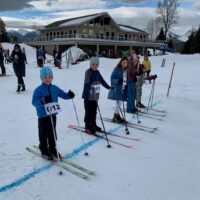 Next everyone got together at the clubhouse for a chili lunch prepared by Cooks Caterering S&P. Cookie medals to participants. Great prizes from our event sponsors for best costume and other fun categories. We wish to thank these local businesses for providing the prizes for the event: Happy Cow Fernie, Fernie Chiropractic Inc, Mantra Spirit Studio Fernie, Le Bon Pain Fernie, The Quest Fall Line Snow Sports, Fernie Brewing Co., The Vogue Theater, Giv'er Shirt Works, Big Bang Bagels, City of Fernie.
Big thanks also go to Jason and his grooming crew at the Fernie Golf Course for preparing the course during the last weeks.
The icons below link to the results form the races and relays:
Other pages you may be interested in: